Robert Sapolsky
Robert Morris Sapolsky (born April 6, 1957) is an American neuroendocrinologist and author. He is currently a professor of biology, and professor of neurology and neurological sciences and, by courtesy, neurosurgery, at Stanford University. In addition, he is a research associate at the National Museums of Kenya.
Sapolsky's work has been featured widely in the press, most notably in the National Geographic documentary Stress: Portrait of a Killer, articles in The New York Times, Wired magazine, the Stanford magazine, and The Tehran Times. His speaking style (e.g., on Radiolab, The Joe Rogan Experience, and his Stanford human behavioural biology lectures) has garnered attention, and even adulation, for otherwise abstruse topics. Sapolsky's specialization in primatology and neuroscience has made him prominent in the public discussion of mental health—and, more broadly, human relationships—from an evolutionary context.
Sapolsky has received numerous honors and awards for his work, including the prestigious MacArthur Fellowship Genius Grant in 1987, an Alfred P. Sloan Fellowship, and the Klingenstein Fellowship in Neuroscience. He was also awarded the National Science Foundation Presidential Young Investigator Award, the Young Investigator of the Year Awards from the Society for Neuroscience, the International Society for Psychoneuroendocrinology, and the Biological Psychiatry Society.
In 2007 he received the John P. McGovern Award for Behavioral Science, awarded by the American Association for the Advancement of Science.
In 2008 he received Wonderfest's Carl Sagan Prize for Science Popularization. In February 2010 Sapolsky was named to the Freedom From Religion Foundation's Honorary Board of distinguished achievers, following the earlier Emperor Has No Clothes Award for year 2002.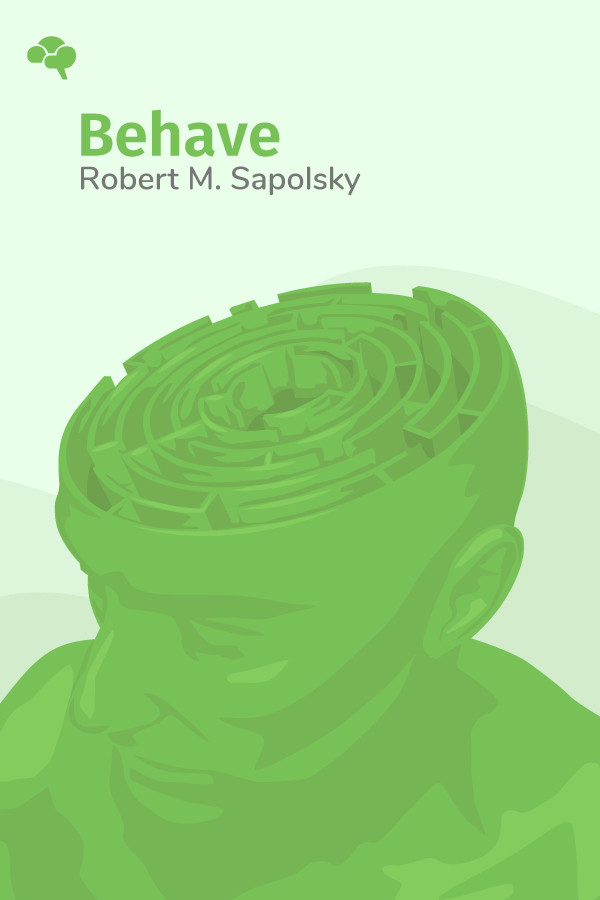 In addition to dedicating years of his life to living among baboons in the African bush, Robert Sapolsky is a Stanford professor whose work sits at the nexus of primatology and neuroscience. Behave is a deep dive into the meaning behind human behavior. As his 800-page tome reveals, it's a subject too complicated for any single field of science to explain adequately.
---