Sue Johnson
Sue Johnson is an author, clinical psychologist, researcher, professor, popular presenter and speaker and a leading innovator in the field of couple therapy and adult attachment. Sue is the primary developer of Emotionally Focused Couples and Family Therapy (EFT), which has demonstrated its effectiveness in over 30 years of peer-reviewed clinical research.
Sue Johnson is founding Director of the International Centre for Excellence in Emotionally Focused Therapy (ICEEFT) and Distinguished Research Professor at Alliant University in San Diego, California, and Professor, Clinical Psychiatry at the University of British Columbia, Canada, as well as Professor Emeritus, Clinical Psychology, at the University of Ottawa, Canada.
Dr. Johnson has received a variety of awards acknowledging her development of EFT and her significant contribution to the field of couple and family therapy and adult attachment. Sue was appointed in 2017 as a Member of the Order of Canada, the country's highest civilian honour recognizing outstanding achievement, dedication to the community and service to Canada. In 2016, she was named Psychologist of the Year by APA, and has been honoured by AAMFT for her Outstanding Contribution to the Field of Couple and Family Therapy.
As author of the best-selling book: Hold Me Tight, Seven Conversations for a Lifetime of Love, Sue Johnson created for the general public, a self-help version of her ground-breaking research on relationships – how to enhance them, how to repair them and how to keep them. This best seller has been adapted and developed into a relationship education and enhancement program. This Hold Me Tight® program has been translated into numerous languages with workshops taking place around the world. The program has been adapted for specific groups such as for couples facing heart disease, for families with teens, and for Christian couples, and is also offered in an online format.
Her book, Love Sense, The Revolutionary New Science of Romantic Relationships outlines the new logical understanding of why and how we love – based on new scientific evidence and cutting-edge research. Explaining that romantic love is based on an attachment bond, Dr. Johnson shows how to develop our "love sense" – our ability to develop long-lasting relationships.
Sue's newest book, Attachment Theory in Practice: EFT with Individuals, Couples and Families, shows the promise of attachment science in terms of making sense of and repairing our most precious relationships and thriving as strong resilient individuals. Attachment science offers us the most potent model for therapeutic change, especially when dealing with anxiety and depression, and that, of all models of intervention, EFT most closely captures the essence of the attachment perspective. It targets the defining feature of survival-oriented human connection, namely strong emotion, and systematically shapes core bonding interactions with others.
Dr. Johnson's best-known professional books include, The Practice of Emotionally Focused Couple Therapy: Creating Connection (3rd edition, 2019) and Emotionally Focused Couple Therapy with Trauma Survivors (2002).
Sue trains counselors in EFT worldwide and consults to the over 75 international institutes and affiliated centers who practice EFT. She also consults to Veterans Affairs and the U.S. and Canadian militaries.
Living in Victoria, BC, with her husband, Sue adores Argentine tango and kayaking on Canada's northern lakes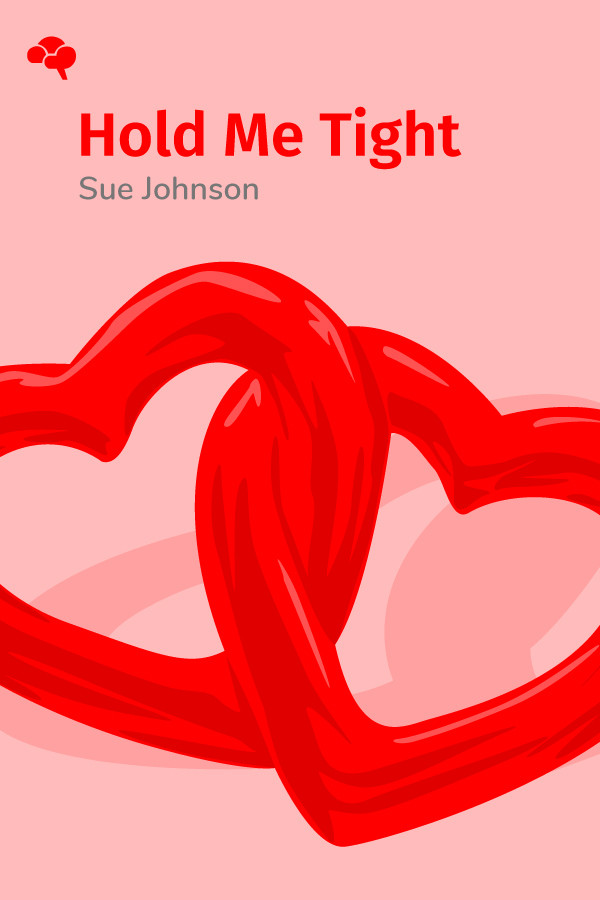 No matter how passionate and enrapturing the initial romantic connection, love in a relationship is doomed to fizzle out over time, right? Clinical psychologist Sue Johnson strongly disagrees. After making little headway working with distressed couples through rational problem solving or exploring early childhood, Johnson developed Emotions Focused Therapy (EFT), an approach that helps couples discover the vulnerable emotions that roil beneath routine conflicts and misunderstandings. In Hold Me Tight, Johnson argues that responsiveness to our partner's deep, attachment-based emotions is the secret to lifelong love. She encourages lovers to have a number of conversations, on topics such as their particular dances of dysfunction, their core wounds, their deepest fears and needs, and sex. What follows are some of those conversations.
---